Advancing Clean Energy
33 Diverse Business Owners Graduate from ComEd's Energy Efficiency Program
July 21, 2022
For ComEd, powering lives means more than delivering electricity to customers.  It's about providing impactful energy efficiency opportunities to help customers save money and energy; empowering communities to meet their ever-evolving energy needs; and supporting the region's workforce and economy through utility-driven clean energy innovation and opportunity. 
To expand energy efficiency offerings and address today's climate and economy issues, ComEd invests in programs to expand energy efficiency offerings and address today's climate and economy issues, ComEd invests in programs that support the steady growth of a diverse talent pipeline and provides opportunities and provide opportunities for them to grow to positively impact their communities. Investing in businesses owned by people of color, women and veterans is one of ComEd's focuses to build equity in Illinois. 
"We are deeply committed to ensuring our energy efficiency programs deliver savings in communities most in need," said Erica Borggren, VP of customer solutions. "The way energy efficiency funding flows through businesses in communities to deliver those savings is just as important – and, through this program, we're so pleased to be able to partner with and grow local businesses to do just that." 
Through the Energy Efficiency Service Provider (EESP) Incubator program, ComEd supports the development of minority, women, and veteran contractors by offering education and training on the electric provider's energy efficiency portfolio offerings to provide them with more solid footing in the competitive energy-efficiency market.
This month, ComEd celebrated the third graduating class of its EESP Incubator program. The 2022 graduates represent 33 diverse contractor businesses: 57% are minority-owned, 26% are woman-owned, and 17% are veteran-owned. These diverse lighting, heating and cooling, and engineering businesses were trained in ComEd's Energy Efficiency Program, providing them the ability to offer incentives to their northern Illinois customers. 
"The Incubator program was really instrumental in allowing me networking opportunities and in putting me in front of major players in the Energy Efficiency space," said Ramon Hayes, a 2019 graduate of the incubator. "It's actually really simple. There is no way I would be doing the volume of business that I am doing, had I not gone through the Incubator Program."  He now mentors current Incubator cohort members in energy efficiency project best practices.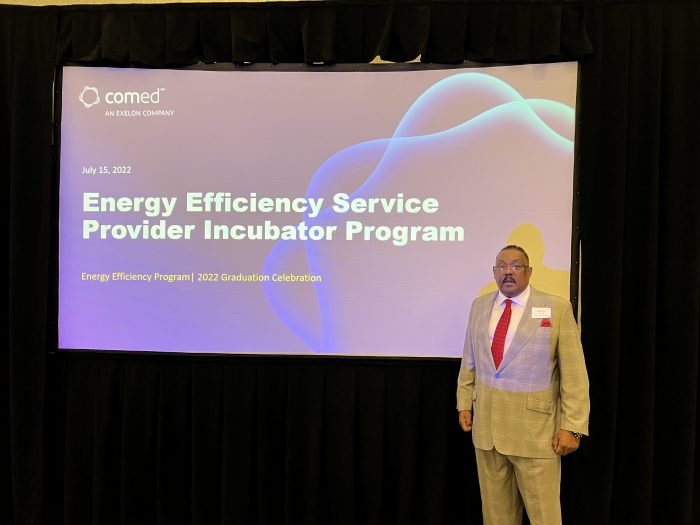 Ramon, the owner of Eco-Energy Solutions, a service-disabled, veteran-owned business, is one of 66 contractors to graduate from the Incubator since its inception in 2019. Prior to participating in the program, Ramon relied on a small client base and single contracts to keep his business doors open. With the training he received through the EESP Incubator program, Ramon will now be able to propose and install an expanded array of energy-efficiency measures that can save his clients money and energy.
As part of the wrap-around services provided by the program, the Incubator team provides one-on-one assistance with certification applications, business growth plans, project financing, and identifying and resolving barriers to building a successful business in the energy efficiency field. The team also assists Ramon and other participants in developing a business growth plan and provided opportunities to enhance networking abilities. 
At the end of the program, graduates are encouraged to apply to ComEd's Energy Efficiency Service Provider (EESP) Network, who are ComEd's contractors that install energy efficiency measures in customers' homes and businesses. Once accepted, they can provide ComEd Energy Efficiency Program incentives and rebates to customers for projects that can reduce their energy use and save money on their utility bills, and grow their own businesses through the successful completion of energy efficiency projects. 
Over the years, the ComEd Energy Efficiency Program has increasingly helped customers reduce their energy bills and consumption, in turn reducing the consumption of fossil fuels.
Since 2008, the ComEd Energy Efficiency Program has made impactful contributions towards Illinois' goals of creating a clean energy future: 
ComEd customers have saved more than 56 million megawatt hours of energy usage and a total of $6.7 billion on their electric bills.
This energy reduction also reduced carbon dioxide emissions by more than 61 billion pounds, the equivalent of taking 6 million cars off the road for one year. 
More than $1.5 billion in incentives have been issued, allowing northern Illinois customers to reinvest in their homes, businesses and communities. 
For over a century, ComEd has kept its promise to northern Illinois communities and customers to be more than an electric delivery company. ComEd delivers on that promise every day, empowering its customers, creating equity in local communities, driving innovation, and increasing a diverse workforce, to create a brighter tomorrow.