On a bright and sunny Saturday afternoon, 7,000 Chicagoans eagerly gathered around Buckingham Fountain to witness one of the world's largest fountains come to life with 134 jets spurring water synchronously. On May 14, 2022 ComEd and the Chicago Park District kicked off the summer season at the eighth annual Switch on Summer event to mark the start of summer in Chicago.
Presiding over this annual celebration was ComEd's CEO Gil Quiniones, the Chicago Park District General Superintendent & CEO Rosa Escareño, Chicago's First Lady Amy Eshleman, and sports anchor at WGN-TV Morning News, Pat Tomasulo, who served as the master of ceremonies for the grand celebration.
"I am thrilled to be with you today to officially turn on Buckingham Fountain, which symbolizes the enormity and the majesty of Lake Michigan," Amy Eshleman, First Lady of City of Chicago. "Switch on Summer symbolizes the end of spring and the beginning of Chicago's greatest season."
Eugene Rodriguez, a 69-year-old retired serviceman from Brighton Park, flipped the switch to power the fountain. He beat out more than 4,500 contestants who entered the ComEd sweepstakes for a chance to perform the honor of turning on Buckingham Fountain.
"It is a blessing and honor to welcome everyone to this beautiful, awesome park and to our beautiful fountain. Let's get this party started!" Rodriguez said as he walked on stage to flip the ComEd switch.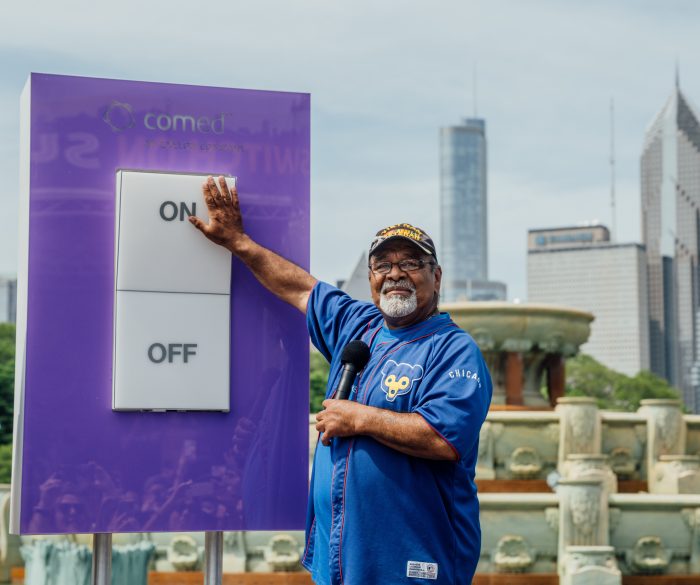 Several of ComEd's arts and cultural partners joined the celebration to offer interactive and educational activities. The event featured appearances by beloved children's characters, fun giveaways and special performances by well-known 1980s cover band, Sixteen Candles, and Angel Meléndez & the 911 Mambo Orchestra curated by Segundo Ruiz Belvis Cultural Center.
More than 2,000 guests visited ComEd's booths to learn about STEM education programs, energy efficiency tips from ComEd's Energy Force ambassadors, and solar energy resources available for customers.
"ComEd is excited to power on the summer season at the eighth annual Switch on Summer event in Grant Park," ComEd CEO Gil Quiniones said. "Though I'm new to the area, I've heard that Chicago summers are pure magic, which is why I'm pleased to join Chicago's First Lady, city officials and thousands of Chicagoans to celebrate the start of summer."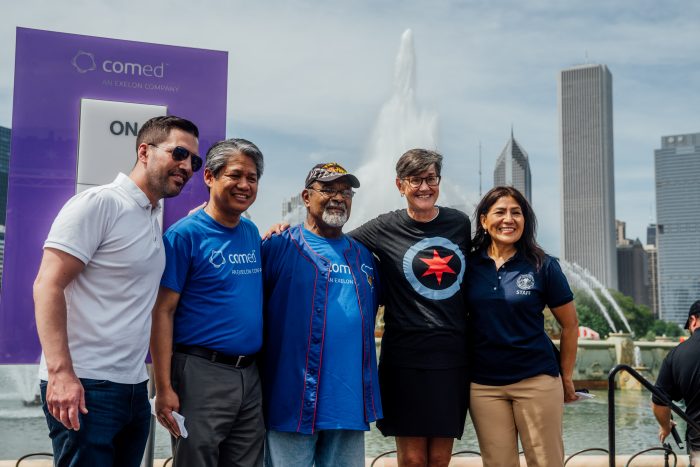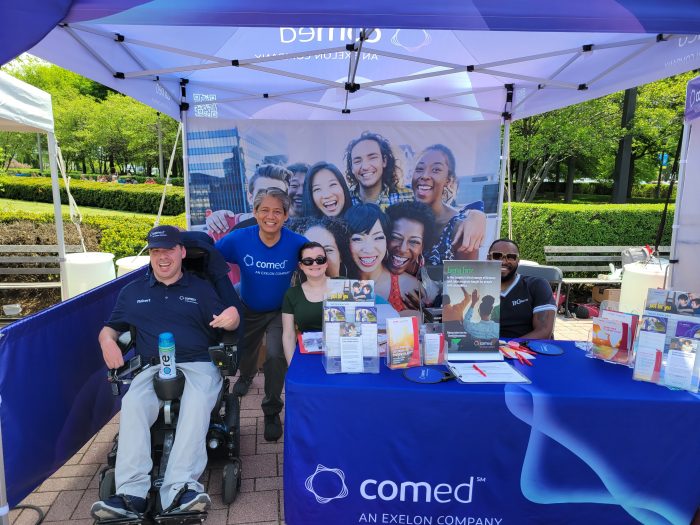 It will be a magical summer in Chicago, with the Chicago Park District hosting  600 events throughout the summer and open to the public for recreational activities. Buckingham Fountain is ready to welcome millions of visitors this summer and serve as the backdrop of their social media pictures.
"The Park District is one of the largest organizations offering music, art and all kinds of events and it starts today with Switch on Summer," said Escareño. "I am so thankful for the partnership of ComEd, who is our sponsor, and for the last eight years has made Switch on Summer possible."